MEMBERS ONLY LUNCHEON: Senator Bill Monning
Join the Monterey County Business Council as we welcome Senator Bill Monning, representing Senate District 17, which contains Santa Cruz and San Luis Obispo Counties in their entirety, as well as portions of Monterey and Santa Clara Counties. The cities include Santa Cruz, Watsonville, Gilroy, San Luis Obispo, Morgan Hill, Seaside, Paso Robles, Atascadero, Monterey, and several more smaller cities.
Monterey County Business Council Monthly Luncheons are for MEMBERS ONLY.
---
Check out our new menu:
Spinach Salad: Grilled chicken, dried cranberries, goat cheese, apple, red onion – roasted shallot vinaigrette
Vegetarian Spinach Salad: Dried cranberries, goat cheese, apple, red onion – roasted shallot vinaigrette
Pulled Pork: Smoked pork, sweet tangy BBQ sauce – ciabata bun, served with coleslaw
Alma's Ahi Tuna Sandwich: Seared medium rare, tomato – avocado – ginger – garlic – wasabi aioli, served with french fries
---
Currently, Senator Monning is the Senate Majority Leader. He also serves as a member of the Senate Committees on Budget; Health; Judiciary; Legislative Ethics; Natural Resources and Water; and the Budget Subcommittee #3 on Health and Human Services.
During his tenure in the state Legislature, the Senator has been a leading advocate of reducing childhood obesity and other preventable chronic illnesses through the reduction of the consumption of sugar sweetened beverages. He has authored legislation that would have established a sugar sweetened beverage tax with the revenues generated dedicated to support childhood obesity prevention programs, and legislation to place a consumer-warning label on sugar-sweetened beverages sold in California.
In 2015, Senator Monning was a coauthor of the End of Life Option Act, which provides mentally-capable, terminally-ill Californians with the option to request a doctor's prescription for aid-in-dying medication.
Additionally, the Senator has been a long-time supporter of the California Central Coast State Veterans Cemetery at Fort Ord, has been active in bringing together a diverse group of stakeholders and developing a strategy to develop the Coastal Trail in the Big Sur area and has worked with state and local agencies to remove the San Clemente Dam, providing safety and ecological benefits to the region.
---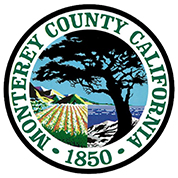 Special thanks to the County of Monterey for its ongoing support of the Monterey County Business Council's efforts for economic development and education.
April 13, 2018
11:45 am to 1:30 pm
Bayonet Black Horse Golf Course
1 McClure Way
Seaside, CA 9395