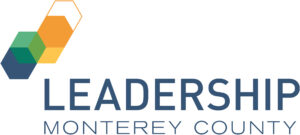 Leadership Monterey County (LMC) builds awareness of local business and community concerns and encourages involvement and stewardship to help shape the future of Monterey County. It is a comprehensive focus on important community issues.
The greatest need in our community is leadership.
The LMC program is centered around educating management-track individuals in different career paths to better understand the economics, government, social issues, and heritage of all areas of Monterey County. The program strives to motivate new leaders into local government, advocacy in local policy, understanding the major job industries in Monterey County, and volunteerism in the community in which they live. Investing this time in the participants is another tool to encourage Monterey County residents to be active in their city, to be educated, to care about their surroundings, to learn about their children's environment, and hopefully support long-term residency and careers within the county.
This 10-month educational program (February to November) offers a comprehensive focus on important community issues. Graduates take on many roles in the community including membership on nonprofit boards, participation on city and county boards and commissions and holding public office, along with leadership roles at all levels in a wide variety of civic, business, nonprofit, community and neighborhood groups.
Individuals benefit from our program in several ways including:
a comprehensive understanding of important community issues and organizations
the ability to meet the "movers and shakers" in the community
building a diverse network of informed colleagues
strengthening professional skills and expanding contacts
and more
Leaders are trained and developed in a program that includes three components:
Education
Seminars on topical current events in Monterey County.
Experience
Hands-on learning in a variety of community-based venues.
Exposure
Interactive panels with leaders from business, government, public benefit, education and a variety of other sectors.
Class size will be up to 30 participants.
2022 Classes will be held on:
February 25, 2022 – HOSPITALITY DAY
March 25, 2022 – EDUCATION DAY
April 22, 2022 – AGRICULTURE DAY
May 27, 2022  – GOVERNMENT & LAW DAY
June 24, 2022 – DEFENSE & SECURITY DAY
July 22, 2022 – NON-PROFIT DAY
August 26, 2022 – INFRASTRUCTURE & ENVIRONMENT DAY
September 23, 2022 – SOUTH COUNTY DAY
October 28, 2022 – ART, HISTORY & CULTURE DAY
November 18, 2022 – HEALTHCARE DAY
The minimum age to participate is 18, and individuals from varied ethnic backgrounds and all areas of Monterey County are encouraged to participate. Participants must attend a minimum of 8 out of 10 sessions to graduate.
For more information see our website: www.LeadershipMC.org